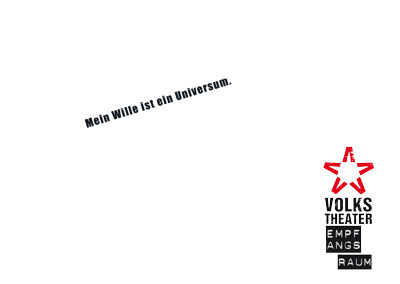 Emerging. Taking Stock. 2010
Concept, space, scenic design by: Veronika Barnaš
Concept, Text: Julya Rabinowich
with: Susa Meyer, Nanette Waidmann; Matthias Mamedof
Premiere June 2nd 2010 at "Empfangsraum", Volkstheater Wien
additional Shows: 08.,10.,18., 22., and 23. of June 2012
Since the "Reception Room" is devoted this season to the sensitive theme of "U-boats in National Socialism" (people who went into hiding), we would like to additionally spotlight "u-boats" in Austria today. The reasons for submerging, going into hiding, may be new ones, but the mechanisms have remained the same – having to remain invisible in order to survive on the one hand, looking away and not being recognized on the other.
Under the surface of perception: being alive, but not present in everyday life. Taking stock of being at the mercy of circumstances. Three people who have disappeared: partly voluntarily (to the extent that social coercion can be called voluntary), partly wholly under coercion: a girl in a cellar. A young man threatened by a vendetta. An asylum seeker hoping for a last chance of remaining in safety as a u-boat, by going underground.
The boundaries that are spatially defined do not correspond with those of consciousness. These inner boundaries are what those who are enclosed must seek out again and again to ensure their survival.
Yet it is the same boundaries that block possible exits for them at the same time.
Inside and outside merge while waiting for change.
Photos: Markus Lipuš